SACE Merit Ceremony Performance 2023
The Brighton Secondary Symphony Orchestra was once again invited to play at the annual SACE Merit Ceremony held at Government House on February 9th of this year. Despite the particularly hot day, the orchestra was able to overcome the weather and loaded the bus to travel to the venue, successfully performing our 30-minute program, featuring soloists Emily on trumpet for "Apollo 13" and Rosy on violin for "South Australia."
It was the orchestra's role to provide atmospheric music for incoming guests arriving at the ceremony, which was a brilliant opportunity for students to experience a real-world "gigging" concert as part of an orchestra. A lot was learnt about the challenges of moving instruments, playing an outdoor concert, and having a transient audience, but also about the pleasure of playing a successful concert outside of school. Our musicians were also lucky enough to play with Brighton's Old Scholars, Nic, Gina, Emily, Alevia, Victoria, Chris, Zoe, Matt and Damian, who supported our group with their skill and experience.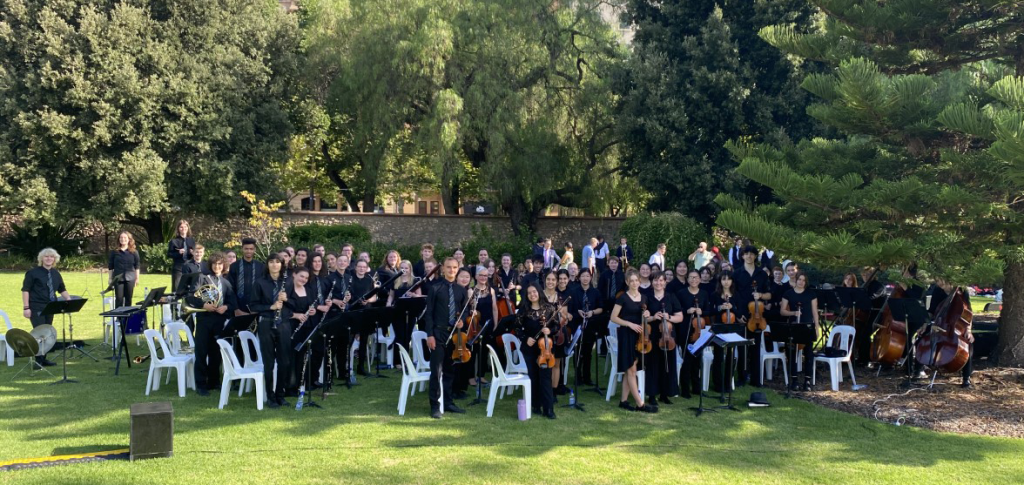 With the additional role of performing the Vice-Regal Salute for the commencing of the ceremony, our brass players were delighted to form a combined brass ensemble comprising students of the four Special Interest Music Centres. This was a great opportunity to collaborate with other like-minded musicians.
We were thrilled to be a part of such an important event, and felt proud to represent our school and community. We look forward to being invited to play at the annual merit ceremony in following years.