Brighton Secondary School Music
Welcome to Brighton Secondary School's website for students, parents and staff involved in the music program.
Links to the most recent events of Brighton Secondary School Music are below. If you wish to look through previous events follow this link to our Recent Events page.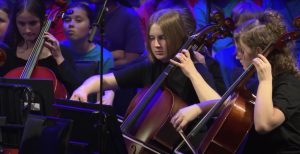 In the week immediately after Music Spectacular, Brighton Secondary School's Sinfonia and Big Band 2 took to the stage at Festival of Music. Sinfonia was the 2nd Assisting Artist for…
Read More
Students access their instrumental music lessons via Department for Education teachers or private providers on site. Lesson times 'rotate' so that students are not missing the same classes every week. Our instrumental music teachers prepare timetables for students at the start of each term. From time-to-time small changes need to be made in order to accommodate unforeseen events. To view the latest instrumental timetables follow the link below.
Performance and Event Calendar
Students at Brighton Secondary School are involved in more than 100 events and performances each year. The performance and event calendar is our 'always up-to-date' schedule of events. Each event is listed with start and finish times (where applicable), links to venues for navigation, and a description indicating who is involved.
Monday 4 December 2023 – Friday 15 December 2023
International Music Tour